About Me
Introduction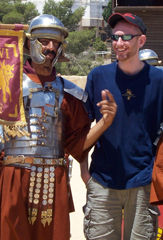 I am a tall person. Tall enough that I probably see the world from a slightly different vantage point than you do: I interact with the tops of refrigerators, high corner cabinets, and too-low ceilings. My heritage is Scandinavian, so I suppose that's where I get my height, along with my pale skin, blue eyes, and red beard. I fit in well in Minnesota where I attended college, but I always feel that I shouldn't, because my insides are filled with North African chili peppers: my father is an anthropologist, so I grew up in the rolling sand dunes of Tunisia and Egypt. My body is addicted to spicy hot food, which makes me happy, and high.
In college I studied writing and philosophy, math and computer science, drawing and art history, film and Celtic spirituality. I love the Celts: their marriage to the earth, their acceptance of mystery. In the end—through fate or some deep magic—I received a degree in physics, though I rarely spent any time in the lab. I do enjoy problem solving though, and understanding how the world works, so I live happily enough with my degree; occasionally we go out to dinner and scribble equations on napkins and giggle like middle school girls.
After graduating I spent some time freelancing as a web designer, power selling on eBay, and running a used bookstore. For the last couple of years I've been living in South Korea where I've been teaching English to middle school girls and boys, and making small experimental computer games.
Websites I've Founded

In 2005 I started The Independent Gaming Source (TIGSource.com), a site dedicated to exploring and promoting indie game development. The site is now run by the incomparable Derek Yu, and has become a phenomenal community of creative developers (over 24,000 registered forum members), as well as been featured in Newsweek and Wired.

In 2009 I founded NecessaryGames.com, a site explicitly focused on exploring meaning and significance with games, where I post articles, reviews, and my own creations.
Games I've Made
Here are a couple of my better known games. For a complete listing, please see my portfolio at NecessaryGames.com.
Country Connect
Country Connect is a game of world travel intended to help improve geography knowledge. It was Chosen by Intel as the best education & reference application for netbooks in 2010, and awarded $10,000, which I used to pay off my student loan from college.
Before you know it you are immersed in a knowledge of world geography. It's almost like cheating, the education is so easy and fun here (Intel App Developer Blog).
5 Colors: Pandora
5 Colors: Pandora is an exploration game about colors and their consequences. Initially created in 48 hours for the 16th Ludum Dare competition, it came in 9th out of 121 entries.
One word: GENIUS! (Atomic, in the LD feedback)
Freedom Bridge
The game that in many ways inspired this project, Freedom Bridge is a very small creation about its namesake in the Korean DMZ. It was a surprise hit which ended up being spread around the internet via Twitter, blog posts, and Facebook.
One of the best video games I've played all year (Fraser McMillan, Resolution Magazine).
For more games I've made, please see my portfolio at NecessaryGames.com.
On the Interwebs
You can find me online at:
Feel free to send me an email or message any time!